Marketing Consulting Methodology
Are you concerned that the practice of Marketing currently doesn't have industry-standard processes, controls and activities like most other business disciplines.
To solve this problem, MarketBlazer has developed a standardized process with common tools and best practices to achieve success during the marketing process. In addition to our unique methodology, we became a Certified Marketing Consultant and meet regularly with top marketing experts from around the country to mastermind and stay on top of the constant changes in tactics, regulations and strategy.
The MarketBlazer Process:
Our process is flexible. Different companies need different things. One size does not fit all. After understanding your specific situation and goals we adjust our process to support your needs. Although we offer a variety of marketing programs, we still approach each project with the same goal, to produce sustainable results for your company with the least amount of struggle.
Step One: Define Client Objective(s)
First, it is critical that we understand your business process, market and competition, and your short and long-term goals. Additionally, we want to understand successes and failures you have experienced both in product and service development and delivery and marketing effectiveness. We begin with a comprehensive internal management interview process.
Activity: Client completes Business Marketing Audit. If required, we conduct one-on-one interviews with management and key employees.
Step Two: Marketing Assessment
With the information gathered from the Business Marketing Audit and optional management interview process we conduct a review of your current marketing process, programs, strategy and implementation. This step is designed to find any holes in your marketing strategy, where your marketing dollars may be ineffective, and where your lead generation tactics may be incomplete.
Activity: Review Business Marketing Audit. If required, we conduct one-on-one interviews with current employees and both current and former customers.
Step Three: Create initial working document
With the information from the management interviews and the marketing assessment we work with the project team to focus on the development of a "living" project document that contains specific deliverables and assigned action items.
Activity: We utilize the Business Marketing Audit and customer surveys to complete this process.
Step Four: Develop Action Plan
During this step we work with you to create a new strategy that will increase the effectiveness of your marketing and improve your marketing return on investment.
Activity: Management and project team review and approval of working document, deliverables and action plan. Specific objectives and tasks are assigned and tracked.
Conclusion:
Business Marketing Audit Process providing valuable input from management with optional one-on-one interviews with team members and clients.
Optional Fast Start Assessment including the four key assessments every business needs.
Five flexible Marketing Programs designed to fit clients' specific need(s) and budget.
Seven comprehensive Marketing Services detailed enough to solve any marketing problem and flexible enough to fit any size company.
Four step process from discovery through to action plan providing client a detailed roadmap with agreed upon deliverables and goals.
Get Started Today: Complete the Business Marketing Strategy Audit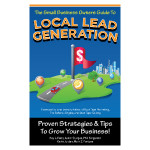 Get a professional Business Marketing Strategy Audit today, this is a $750 value, yours FREE for a limited time. After taking a few brief moments to submit your information, you will not only receive this valuable business marketing strategy audit from a Master Marketing Consultant, but you will receive your personal copy of the
2016 Marketing Book of the Year
"The Small Business Owners Guide To Local Lead Generation".
If you are ready, click to get started with your
Business Marketing Strategy Audit
. If you need more information before starting your Business Marketing Audit, click to
watch a short video
explaining the details. If you are still not ready to get started, click to check out our
100% No Risk. Guarantee
.
Get Started Now