Core Marketing Message
Core Marketing Message: More Than a Unique Value Statement
A core marketing message is the fundamental tool used for communication with a prospective customer. Your Core Marketing Message goes beyond your Unique Value Statement, which states to your prospect the primary benefit offered by your company's product or service.
Rather, the Core Marketing Message serves as the foundation for your entire marketing strategy by making it easier for you to talk about your business, and for decision makers to remember and spread the word.
Why Do I Need a Core Marketing Message?
A Core Marketing Message encompasses your complete marketing message including your Target Market, their problems or needs, your solution, and proof that your solution works — and that you have the experience and talent to make it work. Without a Core Marketing Message, it becomes much more difficult to quickly answer the question
"So, what does your company do?"
Memorable marketing is particularly important for small businesses, where competition is fierce and consumers are overwhelmed with marketing messages from all sides.
To develop a core marketing message for your business, here are a few subjects to ponder.
Target prospects. Which businesses do you serve? Are they small entrepreneurial businesses or large corporations? Where are they located? Describe your company's ideal client.
Benefits. To make your marketing more effective, evaluate your target's key problems. What problem does your business solve? What are the specific benefits offered to your prospective clients?
The solution. Explain how your company can solve the problems of your target prospect. What results will you produce?
Proof. Back up your claims with testimonials and references from satisfied customers. Business owners will be especially interested in success stories about companies you have helped which are similar to theirs.
Once you have established a well-defined marketing message, it should be incorporated in one form or another in all of your marketing materials, including articles, white papers, press releases and your website.
Take a look at your marketing materials, and consider your sales presentations. Is there a consistent, easily identified Core Marketing Message shared by all these marketing tools? Prospective business clients don't have time to spend figuring out just what it is that you do. Your message must be simple, well-crafted, and delivered quickly and clearly to achieve the maximum result.
Get Started Today: Complete the Business Marketing Strategy Audit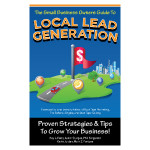 Get a professional Business Marketing Strategy Audit today, this is a $750 value, yours FREE for a limited time. After taking a few brief moments to submit your information, you will not only receive this valuable business marketing strategy audit from a Master Marketing Consultant, but you will receive your personal copy of the
2016 Marketing Book of the Year
"The Small Business Owners Guide To Local Lead Generation".
If you are ready, click to get started with your
Business Marketing Strategy Audit
. If you need more information before starting your Business Marketing Audit, click to
watch a short video
explaining the details. If you are still not ready to get started, click to check out our
100% No Risk. Guarantee
.
Get Started Now